Businesses that intend to adopt Microsoft's Azure to move its data in the cloud find it complex and daunting. It calls for specialized technical expertise that even competent internal IT teams lack. If you are looking out for a reliable partner with rich Azure hosting and management experience, to help you migrate your current IT infrastructure and applications in to the Azure platform, Katalyst is where your search ends.
Katalyst's Managed Azure Cloud services are offered with predictable month to month payments with prices depending on the infrastructure components and applications. We can guide you through the entire lifecycle of Azure investments – right from consulting, onboarding and development of the Azure cloud infrastructure to configuring, deploying, and supporting the Azure implementation.
From planning, design, migration, installation, management, and support; Katalyst will be there through every phase of your journey to the Azure cloud platform.
Azure is open, flexible and a powerful option for building and launching applications quickly. Organizations can build applications using any language, tool, or framework, and integrate them with existing IT environments. Katalyst can help clients deploy applications on Azure (backed by a global network of Microsoft-managed data centers), or build and manage a private cloud built on the Azure cloud, or develop and maintain a hybrid solution.
If you are already using an azure private cloud, we can drive the optimization of your analytics, computing, database, mobile, networking, storage, and web based services.
Reduce dependencies on personnel, save cost and let go of the complex handling of system and security administration of your azure site. Our 24×7 Microsoft certified Azure experts are there to help you with that. We ensure that the transition process is easy and smooth and handle the complex management of it with minimum fuss.
Rest assured that your IT infrastructure management is at good hands. Katalyst is a Microsoft Gold Cloud Platform partner, 1-Tier Azure CSP reseller, and a sought after Azure migration and managed services provider. What else? We provide value added Azure services at low prices that are appreciated by our clients.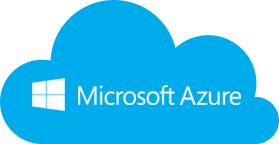 See how Katalyst solved server infrastructure problems with Azure cloud for an Arizona based telecommunication equipment manufacturer.
Derive the most out of Azure Cloud with Katalyst
Secure and reliable infrastructure: The Azure cloud is hosted in over 30 regions around the world in highly reliable and certified data centers. Depending on the application service, the uptime guarantees vary between 99.9 and 99.99 percent. As an Azure CSP, Katalyst can provide managed services along with Azure cloud hosting plans.
Planning: Our team can help you plan your Azure implementations or migrations after studying the application needs, and design solutions including hybrid ones.
Build and Test: We can build testing and production environments, with automation for disaster recovery, and taking into account future scalability requirements.
Zero error delivery model: We have a 'zero error' delivery model that guarantees uninterrupted, error-free service.
Exceptional service with 24/7 support assistance: Our managed Azure plans include 24×7 expert support assistance through phone, chat, and email. Our experts are easy to reach. Not just the IT staff, even the end-users can contact us and have their issues resolved.
Cloud Lifecycle Management – We have expertise in setting up design and IT infrastructure and software applications. Azure management involves designing future-ready architecture, planning, installation, migration, optimization, and support assistance.
End-to-end Account Management – Procurement, deployment, and management, network, and storage services.
Save time and launch faster
Leverage Katalyst's cloud expertise to gain speed of deployment. We help you add new applications and/or users in minutes. For your ongoing maintenance and "heavy lifts" such as managing hardware and software updates, upgrades, and patches, we can be your best bets.
Do not be left behind. Take advantage of the scalable, flexible, and low cost Azure platform with the help of Katalyst.